And more Caverns...

Tight tunnels in the Cafezal Cavern.

Me, Ana, Mauro, Sandra and Renato swimming in
a waterfall outside of the Morro Preto Cavern.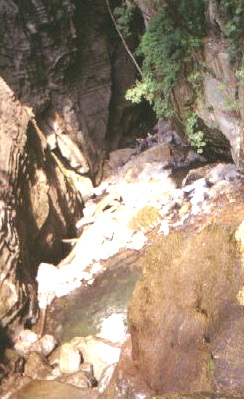 Looking down at waterfalls we were going to descend.
The dark hole at the top of the photo is the bottom of a
215 meter high cavern entrance. The little white dots you see in the
blackness are other explorers.

The descent by rope. Ditinho in front,
me, and Jean Pierre, another guide below.
Hard to see how far the drop was, but it was about 80 feet.
The problem with this descent is that when you would wait for
others to come down the ropes, you had to stand on slippery
rocks near the waterfalls. There were dry rocks around, but
cobras have a tendency to hang out on the dry ones...like the one
below...
Massive stalactite. You can see Renato's shoulder behind it.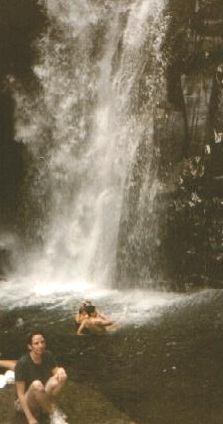 Taking a break at the Beija-flor waterfall.